Introduction
Record-toppling, early-season heat waves well into the triple digits have spread across the western portion of the United States straining electricity grids as a severe drought constricts hydroelectric power generation. As of June 15th, over 26% of the western U.S. is experiencing exceptional drought, which the U.S. National Drought Monitor considers the most intense level of dryness, and nearly 98% of the West is seeing some level of drought [1]. Prior to this cycle of dryness which started in November, the biggest proportion of the West dealing with exceptional drought at any one time during the last 20 years was just 12%. In other words, the extent of the most extreme level of drought in the West is more than double what it has been at any other point since the turn of the century. Even more worrisome, at least one county in 42 of 50 U.S. states has some level of drought, and summer only began a few days ago [1]. As the summer months continue, electricity security is beginning to bear its ugly face yet again as states like California and Texas brace for a difficult season.
Blackout Potential
As the heatwave blazes on in the western United States, some states are at risk of electricity shortages from crippling drought reducing the amount of water available to generate hydroelectric power. Chief among them: California, where officials have been bracing for a difficult season as the usual winter rains the region depends on every year never came. Some of the largest reservoirs in the western United States are at historically low levels after a dry winter. Compounding this was a spring that reduced the amount of snowpack and precipitation feeding rivers and streams. The conditions are especially dire in California where officials say the reservoir system has seen an unprecedented loss of runoff this spring of 800,000 acre-feet, or enough to supply more than a million households with water for a year [2]. The problem is the severe drought does not look like it is going to get any better. Streamflow forecasts for Utah, Wyoming, Colorado, New Mexico, and Arizona are among the five driest on record, according to an update this month by the National Oceanic and Atmospheric Administration [3]. The Colorado River's Lake Powell and Lake Mead are projected to receive only 25% of the water they normally would between April and July. The Hoover Dam, which holds back Lake Mead, is home to one of the nation's largest hydroelectric facilities and capable of producing enough power to serve about 1.3 million people [2]. Around 23% of its electrical output serves Nevada, 19% goes to Arizona, and the remainder supplies Southern California. Unfortunately, generation capacity is already down 25% from its peak, and power grids across the West and South are under strain as individuals crank up the air conditioning to avoid the heat.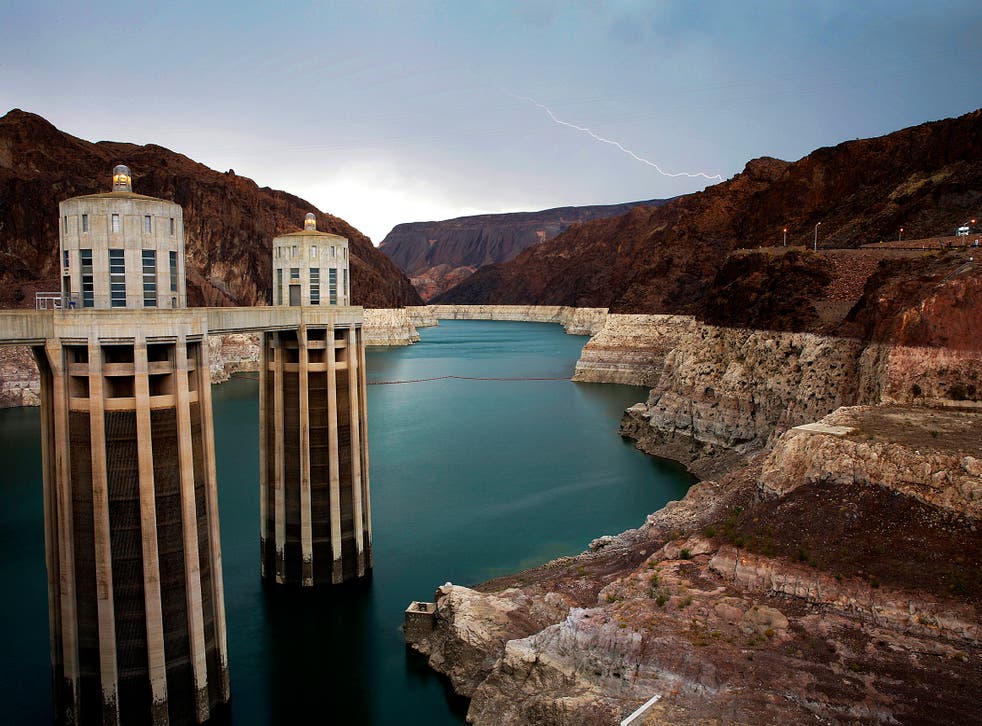 As states like California move away from fossil-fuel energy sources and towards renewables like wind, solar, and hydroelectric, they are exposing themselves to increased energy insecurity by relying on a grid incapable of providing the energy necessary to satisfy demand. The last time California experienced prolonged drought, between 2012 to 2017, hydroelectric power's share of its electricity generation plunged from more than a fifth to just 7% [4]. Now California is currently monitoring reservoir levels which have already fallen to approximately 35% capacity across the state, putting hydroelectric plants at risk of losing their ability to produce any power by late summer with limited hopes of increased streamflow into the dry summer months. If hydroelectric power accounted for about 16% of California's generation mix in 2019, how will the state fill the gap when hydroelectricity can no longer be produced [2]?
The challenge extends beyond just the facet of water available for generation, though. The drought is a test of California's decarbonization plans which purportedly target the sort of extreme weather causing the droughts in the first place. Hot, dry weather boosts demand for power, while also constraining supply. As seen by last August's blackouts, the balance between electricity supply and demand rides a thin line raising concerns of future blackouts as the summer months move on. California is not alone, as grid operators in both Texas and California have called for people to conserve power by reducing reliance on air conditioning to avoid the need for rolling blackouts to bring demand in line with supply. Unfortunately for the already strained grids in the west, the problems will likely continue to get worse as the summer drags on. The North American Electric Reliability Corp., a nonprofit overseen by the Federal Energy Regulatory Commission, warned in a report last month that across the West, grid stability is a "significant concern for the summer," with supply and demand projections at levels similar to 2020 [5].
Natural Gas Price Support
Last year's rolling blackouts were the first to hit California in two decades, and state officials spent the winter and spring working to prevent a repeat. Within one week of the 2021 summer season, reliability is already a pressing concern. While natural gas was the preferred go-to in times of electricity demand crisis, skyrocketing prices might just leave that option off the table with natural-gas futures closing mid-June at $3.215 per million British thermal units, up 96% from a year ago, and the highest price headed into summer since 2017 [8]. The delayed planned retirement of several old gas-fired power plants along the California coast and tweaked electricity market rules has certainly encouraged more imports during periods of high demand, but governance for the energy transition is occurring too rapidly for even these loopholes to help. While power companies are installing large-scale batteries capable of storing solar power during the day and feeding it back onto the grid for about four hours in the evening, there will not be enough of them installed to supply the anticipated 1,700 megawatts of electricity until August [3]. Until then, it appears the most feasible option to sustain the western electricity grid is to power it with natural gas, further reducing stored inventories and continuing to drive up prices. This is further exacerbated by Appalachian and Haynesville energy producers hesitating to restore production too quickly and complete new wells [8]. Continued capital discipline by shale companies has also reduced the amount of associated gas being produced from oil wells that historically contributed to the natural gas supply.
Conclusion
Using more natural gas is against the United States' current clean energy goals. But blackouts, such as those experienced by thousands in California last August, are against modern life in general. What the United States is being forced to come to terms with, especially in California, is the fact that an accelerated energy transition brings about energy insecurity. More simply: there is an energy security issue in the West, and as clean energy policies are fast-tracked across the nation it is conceivable the issue may grow. California Governor Gavin Newsom has also recognized this and noted, "my mind is immediately focused on issues of energy security, immediately focused on issues of wildfire season" [6]. While California is certainly doing a great job in ramping up renewable energy, there are growing concerns about availability. In a joint 2020 report by California ISO, the Energy Commission, and the Public Utilities Commission, the group acknowledged the ongoing risks of blackouts and that planners did not anticipate how to deal with heavy demand on hot nights after solar panels went offline while simultaneously welcoming the closure of natural-gas power plants that could have kept the lights on [7]. Careful planning for the future electrical grid to ensure adequate power supply will become even more important as California, and the rest of the United States, phase out fossil fuels to move toward 60% renewable energy by 2030 and 100% climate-friendly energy by 2045. There is a reliability problem in our midst and an energy crisis on the horizon. Hopefully, this reality will begin to uncover the narrative that all energy can be good energy as long as it is available when needed.
References
[1] https://www.cnet.com/news/prime-day-2021-amazing-deals-at-amazon-walmart-and-other-stores/
[2] https://www.wsj.com/articles/west-risks-blackouts-as-hydroelectric-power-dries-up-11624008601
[3] https://water.weather.gov/ahps/forecasts.php
[4] https://www.bloomberg.com/opinion/articles/2021-06-15/california-drought-tests-climate-goals-and-risks-blackouts
[5] https://www.nerc.com/pa/RAPA/PA/Performance%20Analysis%20DL/NERC_SOR_2020.pdf
[6] https://www.bloomberg.com/news/articles/2021-06-16/blackout-risk-shifts-to-california-from-texas-as-heat-sears-west
[7] https://www.latimes.com/environment/story/2020-10-06/california-rolling-blackouts-climate-change-poor-planning
[8] https://www.wsj.com/articles/the-natural-gas-glut-has-evaporated-driving-prices-higher-11624134728 
[9] https://www.independent.co.uk/news/world/americas/colorado-river-hoover-dam-drought-climate-change-b1861395.html