If you live in America, chances are you have noticed a rising cost of goods and energy. While an energy crisis does grip most of the world right now, the context is different for every county. The United States is a special case in the global community as it contains an absurd amount of hydrocarbon resources, though it refuses to produce them in a time of record-high gasoline prices. This article will do its best to highlight just why we are struggling with high energy prices in a way that anyone can understand. If you enjoy it or want to educate someone in your life, please shoot them a quick email with the link or post it on your own social. Energy education is the foundation for dealing with an energy crisis.
Restrictive Policy
On his first day in office (January 20th, 2021), newly elected President Joe Biden revoked the permit for the Keystone XL pipeline in an effort to demonstrate how serious his administration was about fighting climate change and stopping "Big Oil" from taking advantage of the public. Additionally, he recommitted the United States to the Paris agreement. This came as no surprise as Biden often touted climate change as a monumental issue that he hoped to address, and even talked about his plans for the energy transition in the debates leading up to the election.
A day later on January 21st, 2021 the administration issued what was supposed to be a 60-day ban on oil and gas leasing on federal land and waters. That ban lasted 16 months before the DOI scheduled six lease sales though four of these were still delayed. In May of 2021, the administration rolled back a rule that prevented the EPA from citing studies where data was not made publicly available which in turn afforded the EPA even greater power to act autonomously. On June 1, 2021, Secretary of the Interior Deb Haaland suspended oil and gas drilling in artic reserves in Alaska as they pend further review of environmental practices.
These events are not called in question to pin all blame on the presidential administration. There are many other factors at play, but the US government is making it difficult to operate from a production standpoint. Even the EPA is looking to declare parts of the Permian Basin are in "non-attainment" status under agency ozone regulations. This would paint a massive target on a basin responsible for 43% of US daily oil production. If the US is not able to cut through the red tape, it could be incredibly time-consuming to once again restart exploration and production should the crisis in the United States worsen.
Diminishing Capacity
While the presidential administration is causing a ruckus in the space of production, the last decade of environmentalism has destroyed refining in the states. Getting oil out of the ground is only the first part of the process of delivering energy and resources to consumers. Refineries take in the oil and gas in order to refine the mixed hydrocarbons into separate components. Since the start of the pandemic, the United States has lost nearly 1 million barrels per day of oil refining capacity with even more to be closed in coming years.
| | | | |
| --- | --- | --- | --- |
| Refinery | Reason for Closure | Date of Closure | Capacity (bpd) |
| Lyondellbasell Houston, TX | Lack of investment | End of 2023 | 263,776 |
| Phillips 66 Alliance, LA | Hurricane Ida damage | November 2021 | 255,000 |
| Limetree Bay, Virgin Islands | Operational setbacks | May 2021 | 210,000 |
| Shell Convent, LA | Unprofitable (COVID) | November 2020 | 240,000 |
| Marathon Martinez, CA | Unprofitable (COVID) | August 2020 | 161,000 |
| Marathon Gallup, NM | Conversion to biodiesel | August 2020 | 27,000 |
| Phillips 66 Rodeo, CA | Conversion to biodiesel | 2024 | 120,200 |
| HollyFrontier Cheyenne, WY | Conversion to biodiesel | July 2020 | 52,000 |
| Calcasieu Lake Charles, LA | Unprofitable (COVID) | August 2020 | 135,500 |
The diminished refining capacity serves as an obstacle to replenishing commodities in the US. Trends since the start of the pandemic would suggest that refined goods are either trending into record-low territory or hugging the bottom of their historical 5-year ranges. Gasoline is the easiest example to call on. When gasoline prices hit their record highs there was a 15 million barrel difference in supply and the last low for a 5-year period.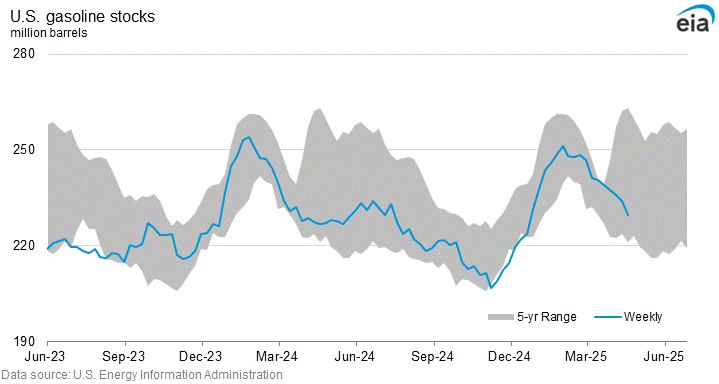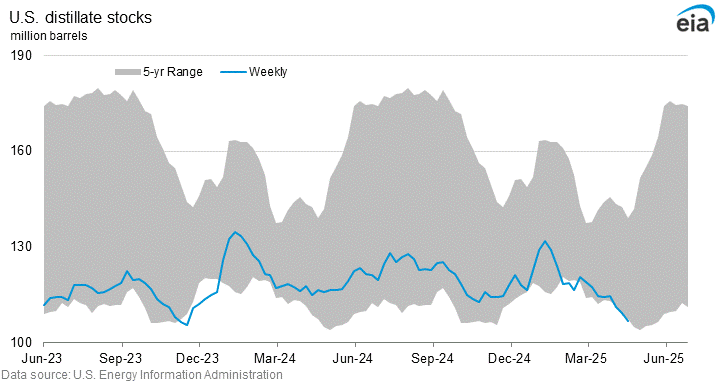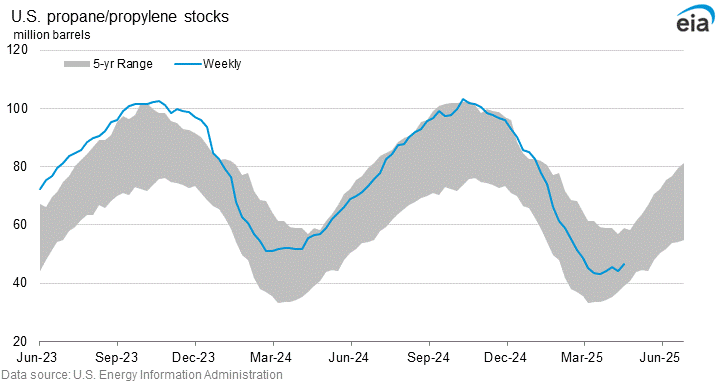 The Biden administration recognized the bottleneck issue in refining and decided to flood the market with cruder than these refineries could handle by releasing 180 million barrels of emergency oil reserves from the SPR. While these reserves are still being rolled out at about 1 million barrels per day it barrels lowered gasoline prices. The largest drop in gasoline prices was mainly a result of oil becoming cheaper, though the administration would not admit it.
Refineries will still continue to operate at about 90% capacity but should world demand return to pre-pandemic levels, the US may not have enough refineries to be able to process everything to meet demand (especially the demand of counties in Europe who are struggling with a much worse energy crisis).
Capacity is also significant in the sense of electricity and power demand. The disconnect lies between the confusion of "capacity" versus "generation." While a wind turbine may have a 10-megawatt capacity, it might only be windy for a small portion of the day meaning anywhere from 1-5 megawatts was generated. This is a problem Texas is becoming intimate with.
The above graph illustrates that when demand peaks, the wind is nowhere to be found. The power demand can be as high as 78,000 MW while wind only compensates for 1,000. An aggressive green energy policy is now being built at a rate less than what we are decommissioning. 6,000 megawatts of coal-fired power were decommissioned between 2014 and 2020 despite adding 0 new gas-fired plants in the past 20 years. Pair this with the fact that wind and solar energy may be in short supply during peak hours and you've crafted a recipe for disaster.
Lack of Investment
At this point, one may have reached the conclusion that the answer to these problems would be more money for conventional energy. Unfortunately, a massive market of green companies has emerged in response to the billions of dollars being fronted by the government in the form of subsidies. The fact that investors didn't get the returns expected from fracking technology only further disincentivized people from giving their capital to oil companies.
The lack of investment has forced most major US companies to a universal strategy: pay down debts and return money to investors. Fewer funds are being allocated for exploration abroad and domestically. A good indicator of fresh US drilling activity lies in the DUC count. A "DUC" is a Drilled but UnCompleted well. Most companies keep a few around for when commodity prices are low. When other wells start to lose productivity it is easy to complete these DUCs and bring them online. This happened through COVID, though the period of time for which it has left lasting economic impacts is much longer than usual. Because of this, DUC inventories are being quickly exhausted signaling a potentially catastrophic decrease in domestic oil production.
What's Ahead
The United States could work to service the growing energy shortages across the world, but it prides itself on being a leader in green energy. While this cause is noble it continues to feed into growing famine and energy insecurity in the developing world. More than 25 million Africans who had just gained access to electricity lost it. Germany continues to restart coal and oil-fired power plants because Russia won't deliver the required natural gas and their renewables aren't enough to cover their baseload demands. Sri Lanka pursued "green" farming but ended up decreasing its grain output and simultaneously overthrowing the existing government. All of these happenings relate to energy security and the toxic lens that hydrocarbons are viewed through. A diverse energy portfolio is the answer to cheap and abundant energy. As long as the world refuses to recognize that, more and more innocent people will be harmed or die. This winter will likely force the world to reframe the way it views energy resources but it is possible that the tragedy forges a stronger future.
References
https://www.upi.com/amp/Top_News/US/2021/05/26/epa-ends-secret-science-rule-studies/1651622047180/
https://tennesseestar.com/2022/06/22/biden-is-still-trying-to-ban-federal-oil-gas-leasing/
https://www.reuters.com/business/energy/which-us-refineries-have-shut-since-global-pandemic-why-2022-06-17/
https://www.realclearenergy.org/articles/2022/07/24/this_one_ercot_chart_explains_why_texas_is_having_electricity_shortages_843990.amp.html
https://www.statista.com/statistics/1221698/population-without-access-to-electricity-in-africa/
---
Click below to subscribe to the RARE
PETRO Podcast Network or visit
www.rarepetro.com/news-pulse
---
storms
grain grain