Previous Reports
Nick is back this week to bring to you this week's inventory report, so good afternoon, and welcome back to the best hydrocarbon report on the internet. Now, this may be a niche cocktail, but I think it will go over well with those who enjoy looking over petroleum data and watching the NFL. I bring to you the Warm Coconut Cream Pie Cocktail. Now, how does this pair with football? Well, when I searched for the best NFL-themed cocktails I came across a list of one for each team, so why not choose the one paired with the best team in football, the Philadelphia Eagles of course.
Now, am I a little biased? Perhaps. However, it's a tasty drink either way, so mix up a few to share with some friends as we dive into this week's numbers.
Well, there's already a lot to dive into right off the bat. The EIA forecasted a draw of about 2 and a quarter million barrels. Wow were they off, but can you blame them? Who would have predicted a nearly 19 million barrel build?!
The API thought a similar draw would happen, but they reported a build of nearly 15 million barrels. What is going on? Experts on the subject are pointing out that refineries are padding their inventories ahead of the new year. Recent cold streaks across the country are also causing people to stay home and drive less, driving the current weak demand for crude. Those same cold streaks have caused some refineries to shut down due to damage caused by bursting pipes, aiding the build even further.
The latest data on the SPR shows a draw of only 800 thousand barrels. Which at first sounds like quite a bit, but that's the lowest that has been withdrawn in several months.
Although this week's build is quite large when compared to recent ones, it got me wondering when the last build of a similar size was. For that, we have to go back to March of 2021 when a 21.5 million barrel build was recorded by the EIA. We are also no longer struggling to remain in the 5-year average now but are firmly planted in that zone.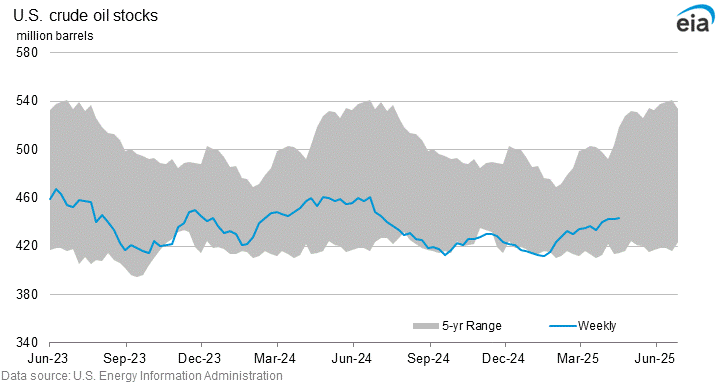 Since the recent lows of January 4th, both Brent and WTI have been CLIMBING. In the past week, WTI is up 1.05% and Brent is up 1.43%, at the time of writing. Brent is currently sitting around $85-86, while WTI is at $78-79.
Natural gas has had a terrible month. The price of natural gas slid from $7 all the way to ~$3.3 earlier this week. Since then it has recovered slightly by about 30 cents, so really not much of a recovery. The cold streak of a few weeks ago has given way to warmer weather, requiring less natural gas, and allowing prices to drop. Europe has also had an unseasonably warm winter, something that has worked well in their favor as fear was mounting surrounding heating issues with the lack of Russian gas.
National gasoline prices are steady and fairly low lately. Gasoline stock across the country remains unpredictable, this week it got in on the build with crude and jumped a bit, a week or two ago the opposite happened. Either way, gas prices seem to hold steady despite inventory changes, lucky for us as consumers!
The national average now sits at $3.272, a decrease of not even 2 cents. Hawaii gas is just barely over $5 and Texas is at $2.851, the cheapest in the country.
While diesel is still expensive, it is cheapening a little bit each week. Just as it seemed distillate stocks were recovering, they dip again slightly. Propane/propylene stocks have also been dropping for a few weeks now but as you can see in the graph that is normal for this time of year.
That wraps up this week's issue, don't forget to drink responsibly while enjoying the playoffs this week, cheers!
If you feel that any image, gif, or other related content infringes on your copyright, please email podcast@rarepetro.com to have that looked into or removed.
inventory report inventory report inventory report