Previous Reports
Welcome back to the 49th edition of Thirsty Thursday! We are now almost a year deep into weekly inventory reports and I gotta level with you folks: It only gets harder and harder to come up with a new idea for what cocktail we can make. Today I got lazy and made use of a random cocktail generator website. Ladies and gentlemen, grab your favorite gin! We are going to make the Tom Collins.
The name of the cocktail originates from an old joke from 1874. Someone would ask another, "Do you know Tom Collins?" Of course, this man never existed, so no one had heard of him. The rest of the joke is convincing someone that this "Tom Collins" was bad mouthing them all over town and that they should find him and put an end to it! The joke became so popular that it was written about as "The Great Tom Collins Hoax of 1874." A bartender caught on and figured he would name a drink after the man. Anyone who rushed into the bar asking the bartender for Tom Collins would have unassumingly ordered a double gin cocktail. The name stuck, the joke sucked, and the rest was history.
But memes from 1874 are kind of irrelevant to this blog post. We have inventory data to sift through! Before you start guzzling down this tasty gin tincture, go ahead and send this report to a friend as it is never a good idea to drink alone. Let's get to it!
After a few weeks of rather significant builds, it is almost frightening to open the latest inventory report. Even the EIA expected another small build of nearly 1.4 million barrels. Thankfully we are greeted with a big draw!
The API expected a similar draw at 1.5 million barrels, but they too underestimated what the actual results would be.
Finally some good news. Another big draw to balance out the builds. While the trendline for the trajectory of domestic oil inventories appears to be pointing more positively, we are not out of the woods yet. Remember, this is a time where slight builds are to be expected, but we are still far lower than the historical 5-year range.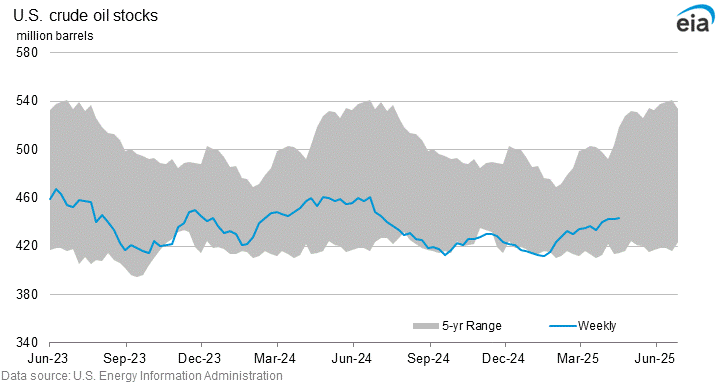 These builds have been nothing but good news for commodity prices. WTI is now up to about $111 dollars barrel which is shockingly close to Brent prices. Usually a spread this small would lead to more folks importing US crude, so it will be exciting to see what the next report holds. There have been a few occasional crossovers, but it seems like WTI and Brent are damn near twins at this point.
Natural gas has been doing even better both this week as it continues to make steady gains. Call me crazy, but it does look as if natural gas is ready to break another record in a few weeks.
While domestic crude inventories continue to decrease, gasoline follows. As GasBuddy analyst Patrick De Haan puts it, "Oil prices continue to go up. Gasoline consumption is up. Inventory is down. Basically, all of the ingredients to push up gas prices are doing just that." Apparently, this simple equation is still stumping the United States Government.
According to the latest EIA report, gasoline inventories decreased by a whopping 4.8 million barrels. We haven't seen a drop off like that since February of last year.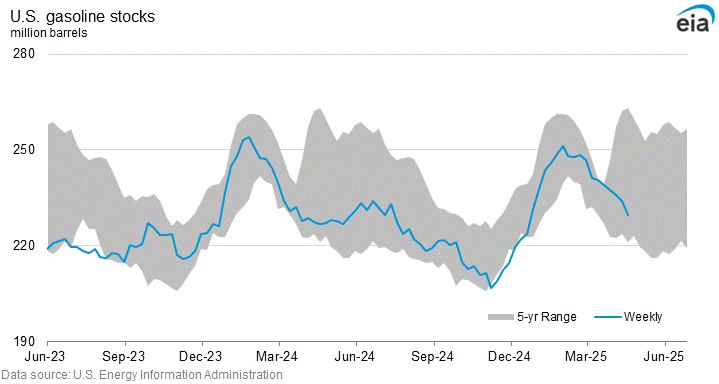 Perhaps it is time to dust off that old bicycle and begin carpooling. This is the type of problem that impacts every American within the country, and I'm surprised we haven't seen more outrage so far. It seems as if policymakers have been setting up to pin the blame on oil and gas for months now.
While gas prices are high, they are also very far spread out. The new average gas price in California is over $6 a gallon, and there is no state with an average lower than $4 a gallon. You may have to postpone those summer roadtrips for a bit, or just bite the bullet. Maybe now it makes more sense to fly rather than drive cross-country?
Propane has pretty much been able to take care of itself for the last few months, but distillates are severely lagging. Fortunately we witnessed a small boost to inventories, but that doesn't mean anything special. Last time distillates saw a slight boost to inventories we witnessed a steady plunge in the following weeks. Things seem to be in purgatory right now before they get incredible bad, or incredibly okay which aren't the most reassuring outcomes.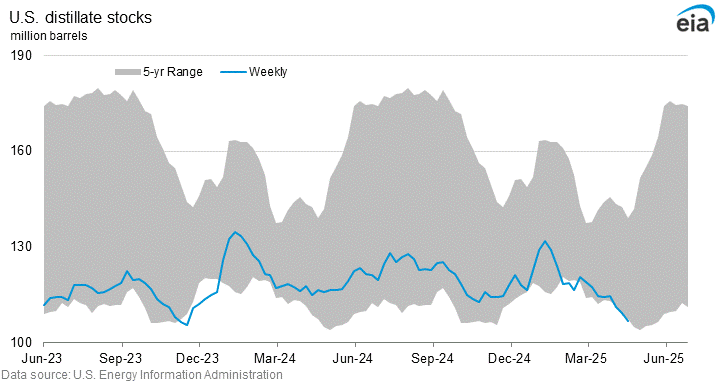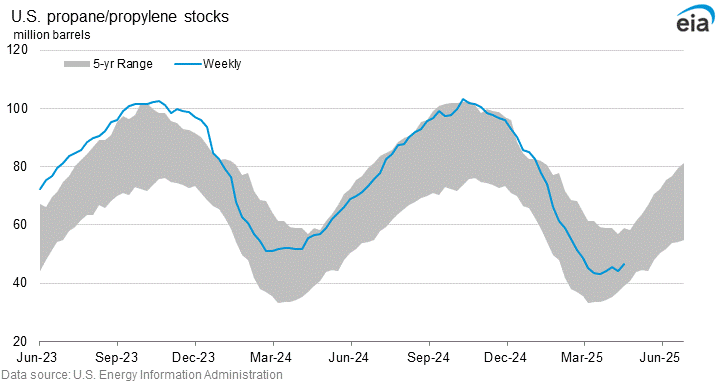 But hey, that is just the wacky world we live in. Speaking of Wacky, we recently launched a new segment where Tavis and Anthony let their thoughts run freely and speculate over some of the stranger stories in energy. If you haven't seen it, you will want to navigate to the RARE PETRO podcast where you can find that audio content, and more. Thanks again for tuning in, and we will see you here next week. Cheers!
If you feel that any image, gif, or other related content infringes on your copyright, please email podcast@rarepetro.com to have that looked into or removed.