Welcome back to the second episode of Thirsty Thursday! The temps are high, and so is the price for a barrel of WTI. Regardless, we are here to see what commodity levels are at, so kick back, grab a brew, and let's get to analyzing!
Starting with the API report, released June 8, we can see they predicted a 3.5 million barrel drawdown. While they still observed a drawdown, it was about 1.5 million barrels less than they had anticipated.
The EIA, on the other hand, released their report a day later and did the complete opposite. They predicted a 2 million barrel drawdown but we actually saw more than double that at 5.2 million barrels.
While the API's number may have differed a little bit, this is even a little bit larger than the drawdown we saw last report. This is sure to apply upwards pressure.
While crude inventories continue to decrease, gasoline inventories continue to decrease. Last week's report saw a small increase, but this week we see another 7 million barrels added to the reserves. This pulled the weekly total up sharply and keeps it healthily in the 5 year range.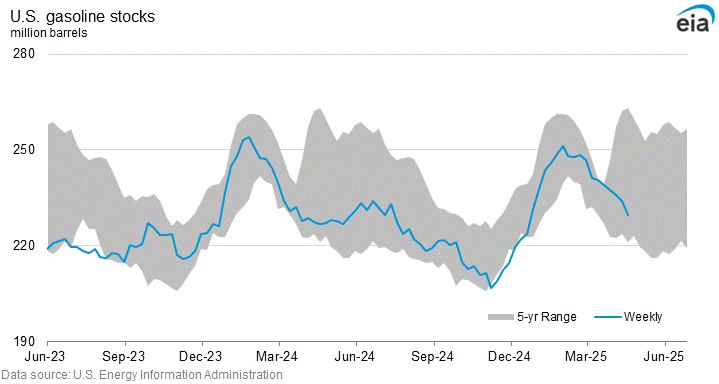 Despite adding even more gasoline to our inventories, headlines continue to highlight the record breaking prices all over the nation. This is likely a result of increased summer travel, and after a year of hunkering down inside it seems everyone is ready to hit the road. Even some national parks are requiring you to make a reservation through the summer. Thanks to this uptick in travel and gasoline being an inelastic good, prices at the pump will remain even higher than they were last week despite the build.
You know when your friends did something stupid and your mom said, "Well if they jumped off a bridge, would you do it too?" Apparently gasoline was the first to exhibit a sharp build in inventories and propane and distillates were the impressionable young friends.
While not as drastic, both propane and distillates saw a build of 5.5 million barrels. While these builds are significant, it only pulls both closer to the 5 year average.
Even though you might think the demand for propane is limited to heating and cooking, it is possible that fleet vehicles could make greater use of the gas in coming years, especially as it aligns with the Biden administration's climate goals. The past year alone showed a vast increase in utilization thanks to the uptick in delivery services, so keep an eye on propane as it could evolve to be more useful than most initially imagined.
Overall, things are looking good for inventories this week. Gasoline might be getting a little bit pricey thanks to reasons outside of purely having it on hand, but we sure did a number on oil. Be sure to sign up to RARE PETRO's mailing list so that you don't miss out on anything, and don't forget to come back next week. We will have a cold one waiting for ya. Cheers!
If you feel that any image, gif, or other related content infringes on your copyright, please email podcast@rarepetro.com to have that looked into or removed.