Previous Reports
Welcome back to Thirsty Thursday, the most entertaining hydrocarbon inventory report on the internet! I (Tavis) got swamped with work, so I'm showing up to the party a little bit late. When that would happen in college, I would go around the party and find whatever "wounded soldiers" I could finish. A forgotten beer can here and a half-crushed solo cup there… it was just too hard for a broke 19-year-old to justify throwing away (we've all been there). Join me today in taking a walk down memory lane and scrounging around for whatever forgotten brewski you can find.
But nobody should be drinking the leftover concoction of miscellaneous spirits alone! That is psychopathic behavior. Drinks like this are best enjoyed with a friend, so go ahead and send this report to a fellow nerd who loves to dig into inventory data. Speaking of data…
After incorrectly predicting a draw, the EIA came back with some optimistic expectations. Unfortunately, the prediction of a draw was overshadowed by a build of 2 million barrels.
The API didn't fare any better. Their predicted draw was smaller, but so was their reported build of 3/4 million barrels.
While this build is smaller than last week's, it doesn't establish a clear pattern (unless that pattern is a build of 2 million barrels every week). Fortunately, the balance of builds and draws has kept our domestic inventories traveling sideways at around 420 million barrels. If it holds out for a few more weeks we will be close to re-entering the historical 5-year range for the first time since January of this year.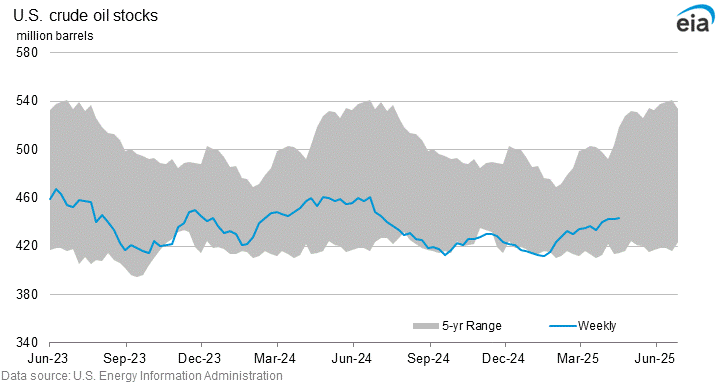 While it is all fine and dandy to talk about crude, the real star of the show is natural gas. WTI prices stumbled through the week thanks to a fire at a Freeport LNG facility. The fire has closed the facility for as much as three weeks and severely hampers the US's ability to send gas resources to Europe in their time of need.
If WTI stumbled, then natural gas faceplanted. Since the US is not able to bring the same volume of gas to the table, the demand has shifted towards European gas. While that commodity price skyrocketed, the comparative US natural gas price took a hefty blow as it fell nearly $2 in a matter of minutes.
Gasoline inventories continue to fall lower and lower with another reported drawdown of 700,000 barrels. The newest participant in the blame game is now oil refineries after the president discovered that American capacity had been reduced through the pandemic.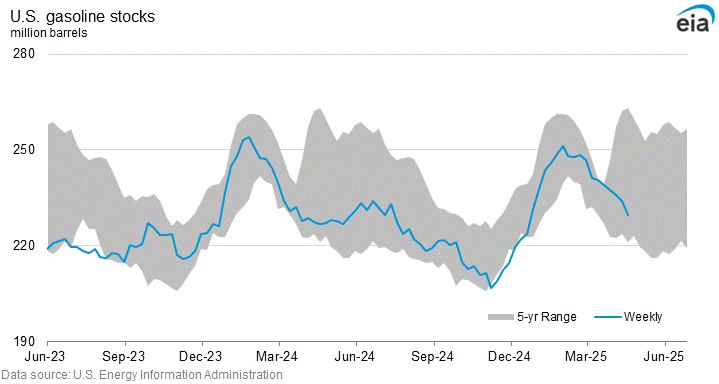 Refineries have struggled to deal with huge spikes in available refining capacity that is ultimately trending downward. This doesn't even begin to consider that these companies were losing money throughout the pandemic. Still, Biden wrote a letter to companies accusing them of taking advantage of higher than usual profit margins. He threatened to take action if they refused to do something themselves, but the threats are still vague and leave a lot to the imaginatio
While gasoline prices are not increasing as quickly as they were in recent weeks, we have now hit a national average of $5 per gallon of regular grade fuel.
This likely won't change until we do get some refineries back online, but government intervention could ultimately slow that process.
Propan inventories are slowing their roll as they come closer to the bottom of the 5 year boundary. It has been self corrective in the past, so it will likely be fine through the summer, though winter could pose a challenge. Distillate inventories continue to see modest gains, but are still far lower than the historical 5-year average. Now is the time to stash a lot of these commodities into barrels and underground reservoirs. If we fail to secure resources now, winter could be especially expensive.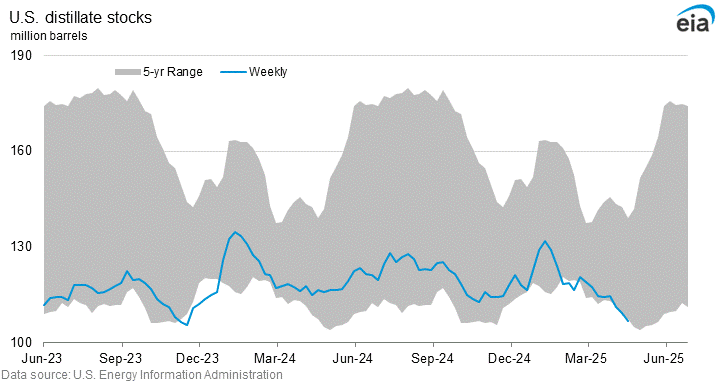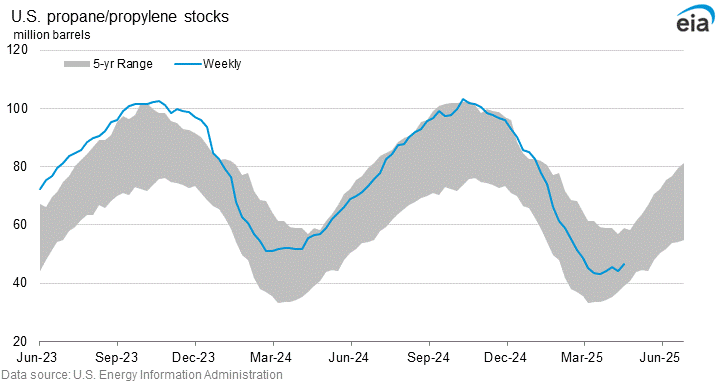 A decent week for energy news, but it still leaves a lot of uncertainty in terms of what action the government will take. The Biden administration seems to grow more restless with each week as they blame everyone in the supply chain but themselves. Is $5 gasoline something we will remember fondly? I sure hope not. We have plenty of energy resources, and now is the time to get at them. We hope you enjoyed this report, and we will see you back here next Thursday. Cheers!
If you feel that any image, gif, or other related content infringes on your copyright, please email podcast@rarepetro.com to have that looked into or removed.
inventory report inventory report inventory report