Previous Reports
Welcome back to Thirsty Thursday! On this day, The "Thirsty Thursday" series is 364 days old with the first edition being written on 6/3/21. We will celebrate by drinking what we would for any one-year-old's birthday party: champagne!
But no celebration should be conducted alone (especially if drinking is involved). Make sure to send this report to someone else who might enjoy taking a look at some revealing inventory statistics. Time to get into the nitty-gritty
The EIA predicted expected to capitalize on the recent small draws with another just over 1 million barrels. The reported drawdown was almost an even 5 million barrels.
The API expected inventories to stay unchanged, but they too reported a draw. A much smaller draw, but a draw nonetheless.
This alludes to a possible trend of drawdowns. The last time we saw 3 consecutive weeks of drawdowns was way back at the start of this year. With peak driving season and the reopening of economies (Shanghai included) in full force, it looks like domestic inventories could get that much tighter.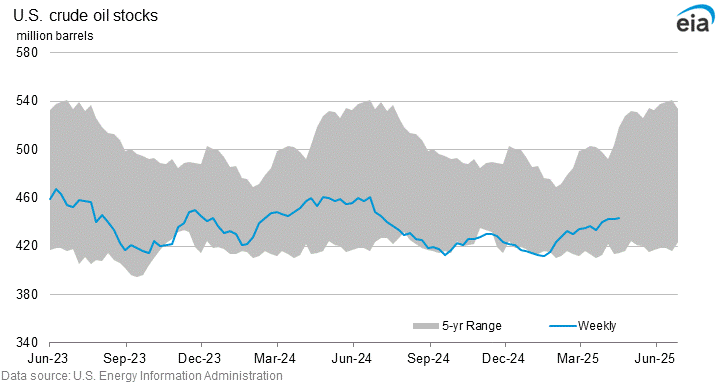 Markets are already reacting positively to the news of the EIA report. WTI immediately jumped up another $1.50 on the news, but it could certainly be a result of damn near anything else in these volatile times. While the price has gone down through the week, it seems like enough positive pressure could push this price up to $120. From there it will be interesting to see whether or not it has the support to break through and push towards a new ceiling of $125 or $130.
Natural gas continues to float between $8.250-$8.750 with brief spikes much closer to $9. Last week we saw a peak of almost $9.500, but realistically the next ceiling to break through is $9. With the weather being back to what we have seen historically, the spot shortages for energy are much less frequent. Still, the next few months could get hot and stress some grids leading to some insane prices.
About everyone would be thankful for cheaper gasoline at this point, but that looks unlikely. The most recent inventory report reveals that inventories did fall, but only by about 0.7 million barrels which is one of the better numbers from recent weeks. Up until now, it looked like domestic inventories would continue on a downward spiral, but this new report provides some hope for leveling out. Still, if inventories changed by zero barrels every week, we wouldn't see normal domestic levels until about July, and that would just be scraping by on the bottom of the historical range.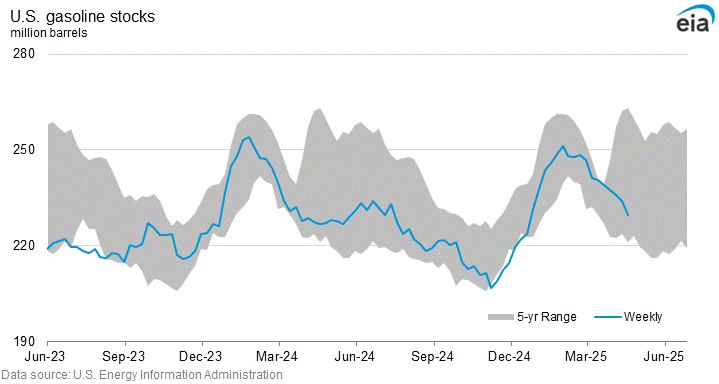 As you might imagine, this has done nothing positive for gas prices. Depending on where you are, a gallon of gas may cost as much as an hour of work at minimum wage. For a minute there it looked like prices were going down, but it turns out $4 gas was just temporary relief before experiencing more price increases.
At the end of the day, I'm more of an energy analyst than an official data scientist, but it sure looks like gasoline is getting more expensive much more quickly. At this point, it may be cheaper to spend your gas money on energy drinks and coffee so that you can run or bike everywhere. Maybe not healthier, but certainly cheaper.
Propane inventories are still in healthy territory. Distillates just saw a much-needed build as the US works to address the growing issue of diesel shortages which is expected to compound and further exacerbate existing inflation issues. Freight and shipping are only getting more expensive thanks to labor shortages but this severe lack of diesel certainly isn't helping. Here's hoping we can get those domestic distillate inventories even higher through the year.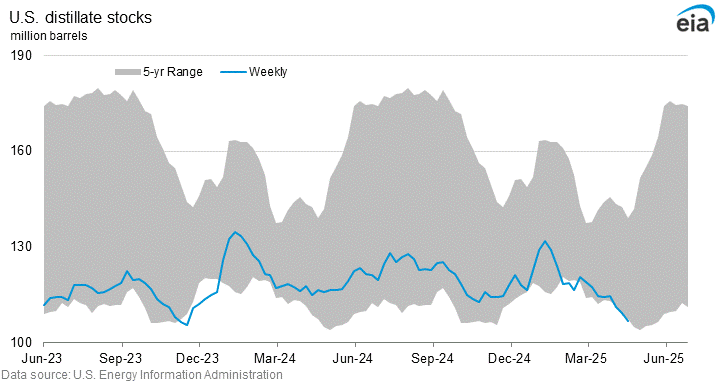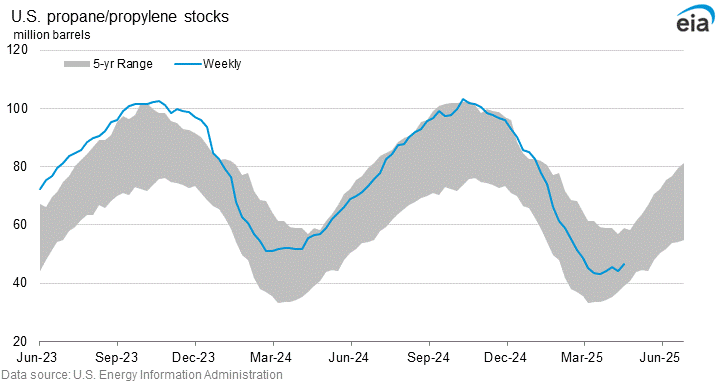 While there is plenty of news (both good and bad), we are at least becoming very informed. We thank you for sticking with us for 1 year of inventory reports, and we hope you have learned at least a little something along the way. Thanks for tuning in, and we will see you here next week. Cheers!
If you feel that any image, gif, or other related content infringes on your copyright, please email podcast@rarepetro.com to have that looked into or removed.