Previous Reports
Welcome to this week's Thirsty Thursday: An Inventory Report. Nick Fernhout is on vacation this week, so it is Tavis who is hopping back in the saddle once again. Today's recipe is classic, simple, and bubbly: The Wine Spritzer. Three parts super chilled white wine to one part super chilled club soda to make this tasty treat. If you are feeling truly opulent, you can add a slice of lime to the rim for later squeezing. Everyone knows that it is never a good idea to drink alone, so go ahead and send this report to another friend who may enjoy nerding out over some great inventory data.
Crude Oil Stocks
We've got some great inventory news this week, and things were already getting exciting when the EIA predicted a 1.75 million barrel drawdown. Their actual recorded result far exceeded expectations as they reported a drawdown of 9.6 million barrels! That is the largest drawdown seen in a little more than a month.
The API made a similar prediction for a 1.5 million barrel drawdown which was also a bit of an undershot, but not as much as the EIA. Their reported drawdown was 2.4 million barrels.
The start of the year made it look like we were in for severe stockpiling of oil, but the past few months would lead you to believe otherwise. In fact, we have slowly been trending downward since the start of the year.
Oil and Natural Gas Prices
Commodity prices are being forced into the lower section of the band they have been occupying for a few months now, but even $70 seems like a far off dream. Brent continues to hold a $4.50-$5.00 lead over WTI, so nothing unusual there.
For the second week in a row, the price of natural gas has increased. This week's jump is 30 cents! Hopefully the beginning of a trend in the right direction.
Fuels Market
No major changes in the world of gasoline. Pricing is essentially the same, and the domestic inventory remains very low compared to historical trends. In fact, we are only a few hundred thousand barrels away from being below the 5 year low for this time period. Despite that unusually low supply the price remains stable.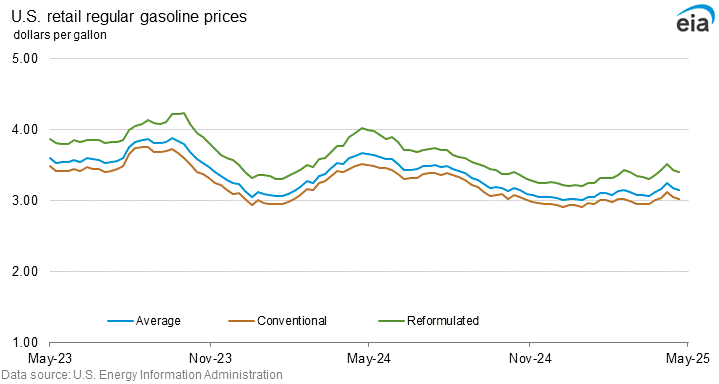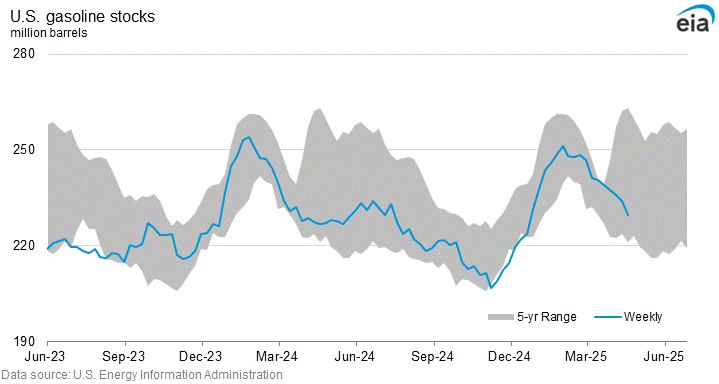 Gas prices are actually down 3.5 cents, but don't expect that to last for too long. The holiday weekend is ahead of us and it is possible we see some serious drawdowns as people plan to make the most of a potentially 4 day long weekend. That's a massive potential for long road trips. Washington state leads the pack as it is 1.3 cents away from a $5 average gas price while Mississippi keeps it cool and under $3 at $2.978 per gallon.
Diesel prices found a way to cool off by almost 3 whole cents despite distillates travelling sideways. That's right, another slight 100,000 barrel build for a 3 week change of only half a million barrels. Despite the stability, distillates are still dangerously close to setting new record lows. Propane continues to skyrocket higher than it has been this time of year since at least 2018, so now is the time to stock up.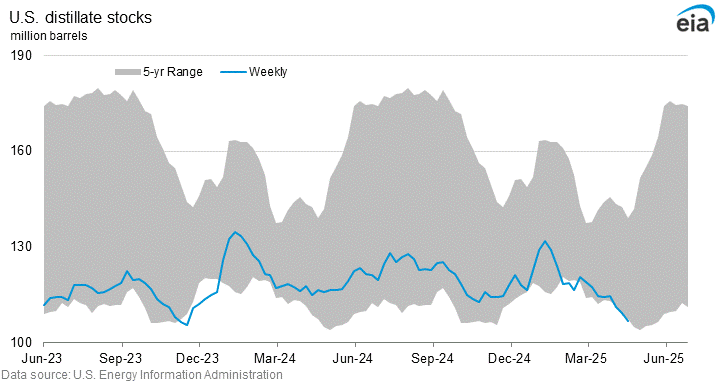 Crude Oil Imports/Exports
Net crude oil imports were down just over 100K bbl/d from the last reporting period, but remain about 1 MMbbl/d higher than most of April. This seems to be dominated largely by a drop in exports–imports seem fairly stable.
Crude oil imports over the short term remain cyclical but over the past 3 years or so show a generally flat trendline. Exports, as of the past several months, have jumped significantly which brings the country's net imports nearer and nearer to zero; at which point we will officially be an oil net exporting country for the first time.
US Weekly Import/Export Data (Jun 9-15)
| Product | Imports (Mbbl/d) | Exports (Mbbl/d) | Net (Mbbl/d) |
| --- | --- | --- | --- |
| Crude Oil | 6,462 | 3,802 | 2,660 |
| Other Petroleum Products | 2,079 | 6,100 | -4,020 |
| Total Oil + Products | 8,541 | 9,902 | -1,361 |
China overtook Mexico this month in the country receiving the most oil from the US with both countries by far accounting for the top destinations of US crude. Meanwhile, the Netherlands makes a huge jump up to 3rd on the list.
US Monthly Import/Export Origin and Destination Data (Month of March 2023)
| Export Destination | Total (Mbbl) | Import Origin | Total (Mbbl) |
| --- | --- | --- | --- |
| China | 45,826 | Canada | 137,157 |
| Mexico | 43,791 | Mexico | 28.914 |
| Netherlands | 28,667 | Saudi Arabia | 14,986 |
| Canada | 24,352 | Iraq | 11,394 |
| Japan | 19,614 | Colombia | 6,791 |
The latest month that we have import and export data on where and from those barrels are coming from is now March and while the lag time is significant I still find it interesting as I hope you do!
That's it for this week. Get out and enjoy that beautiful spring weather!
If you feel that any image, gif, or other related content infringes on your copyright, please email podcast@rarepetro.com to have that looked into or removed.
inventory report inventory report inventory report