Previous Reports
Welcome to this week's Thirsty Thursday: An Inventory Report. Our first full week back since the fourth and it has been a busy one. In order to really kick back this week, we may as well channel our inner frat boy and get something cool and strong. Reach deep into the back of your freezer and grab that Jägermeister for this week's drink. Not so much a cocktail as it is blackout juice, but all you need is one part Jäger and one part Kahlúa or Bailey's to make the "Milk of Amnesia." No reason to slam these on your own, so be sure to send this to someone else who may enjoy because it is NEVER a good idea to drink alone.
Crude Oil Stocks
After a few weeks of pretty significant declines we are now faced with a rather dreary build. Although the EIA predicted a half million barrel build, they were more than 10x off from the actual result of a nearly 6 million barrel build.
The API faced similar difficulties in pinpointing the result as their predicted 200,000 barrel build fell shy of the actual build of more than 3 million barrels.
Despite the 6 million barrel build, we have still ultimately trended downward in supply since the start March (whether or not it actually feels that way). Thanks to the SPR releases we saw a massive spike from December through February, but we are down 23,000 barrels since we peaked just a few months ago. There is still lots of work to be done to get back into normal territory as we are still 36,000 barrels higher than we were this time last July. Overall, things are trending in the right direction and we can be happy about that.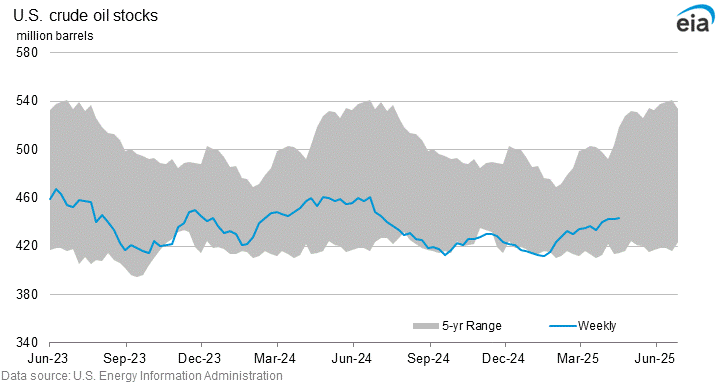 Oil and Natural Gas Prices
Commodity prices are undergoing a level of volatility we haven't witnessed for quite some time. Both Brent and WTI surged this Thursday by more than a dollar each. These screenshots were taken while this issue of Thirsty Thursday, so there is no saying why the price is going up quite yet, or even why. Keep an eye on the headlines because whatever goes up must come down, though we hope that occurs later rather than sooner. Either way, the WTI price is up more than $5 from where it was the week before, so that ain't too shabby.
Natural gas ignores all changes in the commodity space as it sticks to its routine 4th time cycle of gentle 20 cent rolls. Business as usual here and it continues to stick to the same trend as predicted, so we will give you any updates when they arrive.
Fuels Market
Gasoline prices continue to hold steady despite gasoline reaching 5 year historical lows by nearly 10 million barrels. We've only just broken out recently, so I wouldn't worry about price spikes similar to the ones we saw in the summer of last year. I would, however expect some kind of increase in price, but then again we've been trending downward and outside of historical range for most of this year and we've seen no reaction.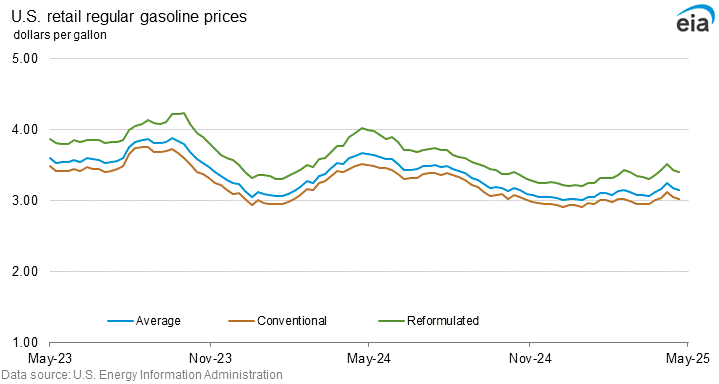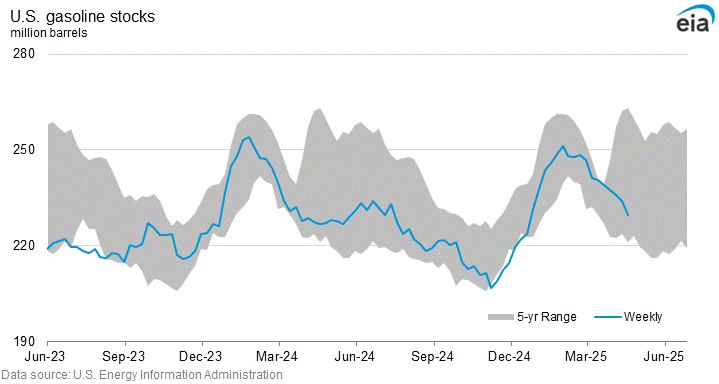 But it is important to be careful what you wish for, so I won't complain too much. I would however be complaining if I lived in lived in Washington state because has has fallen 2 cents but still averages $4.95 for a gallon of regular. The cheapest gasoline is found in Mississippi at an average $2.993 gallon of regular. Ultimately, prices have increased by 2.5 cents, but we will have to be patient to see if that trend continues.
Diesel prices only increased by about a cent and have gone down a total of 5 cents on the month, so definitely more good than bad. I would expect this to eventually drop even more in price considering how we are beginning to stockpile distillates and work out way back towards the middle of the of the 5 year historical range. We are still near the bottom of that range so I wouldn't place any bets on that one yet. Propane remains higher than anticipated given its 5-year historical range, but not by an insane amount. Yes, records are being set, but only marginally.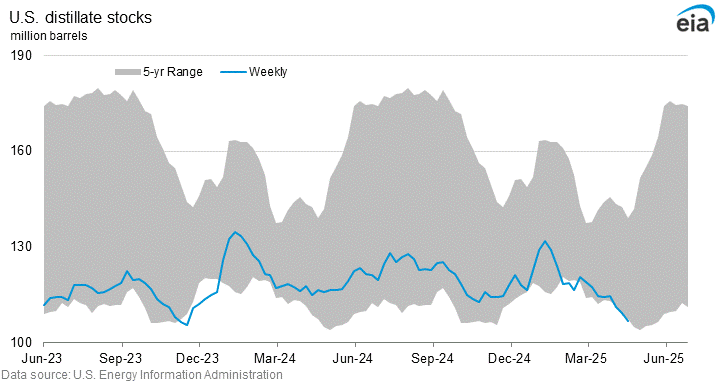 Crude Oil Imports/Exports
Net crude oil imports were down just over 100K bbl/d from the last reporting period, but remain about 1 MMbbl/d higher than most of April. This seems to be dominated largely by a drop in exports–imports seem fairly stable.
Crude oil imports over the short term remain cyclical but over the past 3 years or so show a generally flat trendline. Exports, as of the past several months, have jumped significantly which brings the country's net imports nearer and nearer to zero; at which point we will officially be an oil net exporting country for the first time.
US Weekly Import/Export Data (Jun 9-15)
| Product | Imports (Mbbl/d) | Exports (Mbbl/d) | Net (Mbbl/d) |
| --- | --- | --- | --- |
| Crude Oil | 6,462 | 3,802 | 2,660 |
| Other Petroleum Products | 2,079 | 6,100 | -4,020 |
| Total Oil + Products | 8,541 | 9,902 | -1,361 |
China overtook Mexico this month in the country receiving the most oil from the US with both countries by far accounting for the top destinations of US crude. Meanwhile, the Netherlands makes a huge jump up to 3rd on the list.
US Monthly Import/Export Origin and Destination Data (Month of March 2023)
| Export Destination | Total (Mbbl) | Import Origin | Total (Mbbl) |
| --- | --- | --- | --- |
| China | 45,826 | Canada | 137,157 |
| Mexico | 43,791 | Mexico | 28.914 |
| Netherlands | 28,667 | Saudi Arabia | 14,986 |
| Canada | 24,352 | Iraq | 11,394 |
| Japan | 19,614 | Colombia | 6,791 |
The latest month that we have import and export data on where and from those barrels are coming from is now March and while the lag time is significant I still find it interesting as I hope you do!
That's it for this week. Get out and enjoy that beautiful spring weather!
If you feel that any image, gif, or other related content infringes on your copyright, please email podcast@rarepetro.com to have that looked into or removed.
inventory report inventory report inventory report