Previous Reports
Welcome back to Thirsty Thursday, the most entertaining hydrocarbon inventory report on the internet! We keep stressing ourselves out by making all these extravagant cocktails. Let's simmer down this week with a bottle of sake.
We don't care if you drink it cold, hot, filtered, cloudy, dry, or sweet. We do care that you drink it with a friend, so go ahead and forward this report to someone else who enjoys inventory data (or simply a nice drink). After all, it is never a good idea to drink alone!
The world watched and held its breath as the EIA released its most recent report. After the last report's 8 million barrel build, no one was sure which way domestic inventories would go. The EIA predicted the smallest of drawdowns at 150 thousand barrels. The reported build was not as large as before, but still significant at 3 and a quarter million.
The API came out swinging with a much more positive prediction of a 2 million barrel drawdown, but they actually reported a larger build than the EIA by 1.5 million.
While this build brings down commodity prices a little bit, it also pushes US crude inventories further into historically normal territory. While still close to the lower boundary, the inventories should progress closer to the center if they can at least maintain current levels. Otherwise, winter could prove to be difficult starting sometime around November. Until then we will have to see if we are in for more weeks of builds.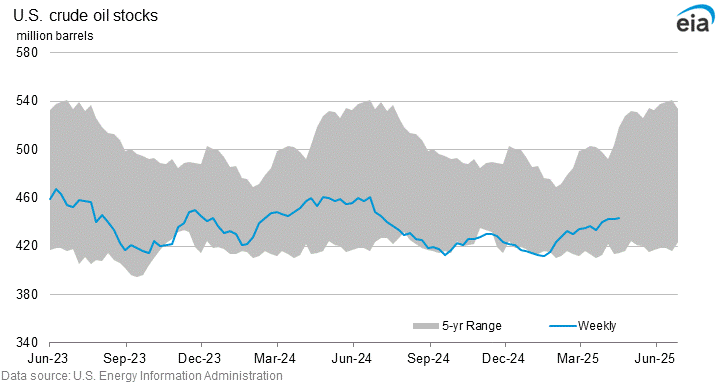 As you might imagine, 2 back to back builds don't inspire a lot of confidence in markets. WTI started the week at around $105 but fell lower and lower to where it is now at about $95. Brent is only trading about $3 higher, but it seems there is pressure to push energy prices lower than $100, though RARE PETRO is doubtful how long this will last.
Natural gas prices are down a little bit on the day, but that is about par for the course this week as it exhibits extreme volatile behavior. Despite falling as low as $5.500 earlier this month, it has seen a 75-cent range this week alone. It sure looks as if US natural gas is quickly becoming more and more valuable to the rest of the world despite our hampered export capacity thanks to the Freeport explosion.
There's been another big build of gasoline. The 5.8 million barrel build is going to be useful in bringing down short-term gas prices, but it still leaves inventories about 5% below the 5-year range. While many are celebrating the success of the Biden administration SPR draining and proposed tax holiday, the bigger driver here is most likely the drop in commodity prices. $120 oil was the norm a couple of weeks back, but we now find ourselves closer to $100. Should commodity prices go back up, expect gas prices to also go back up.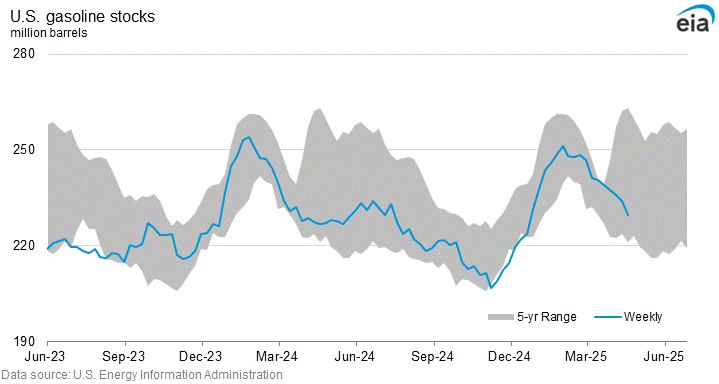 Gas prices are now down about 40 cents on the month. This temporary reprieve was much needed, but no one can be certain how long it will last. More and more gas stations are able to sell gasoline for less than $3.99 with the state of Georgia having the lowest average state price at $4.115 per gallon of regular. California is home to the highest at $5.991
Both distillate and propane inventories increased last week (though you would expect it for this time period), but they both remain lower than the historical 5-year range. A year ago today distillates were trending downwards into historically low territory. Now it is trending upwards while in historically low territory. "Historically low" seems to be one of the most common descriptions we see attached to commodities these days.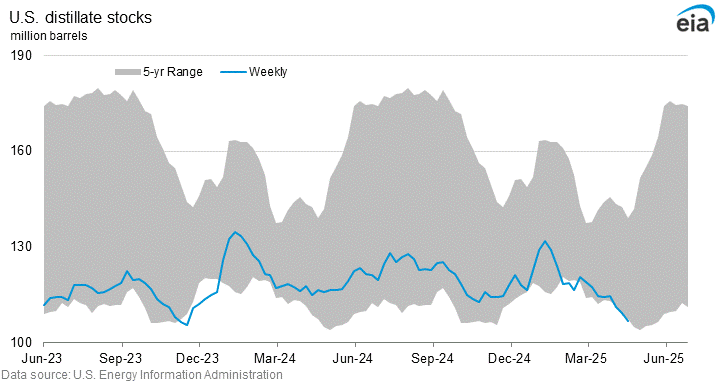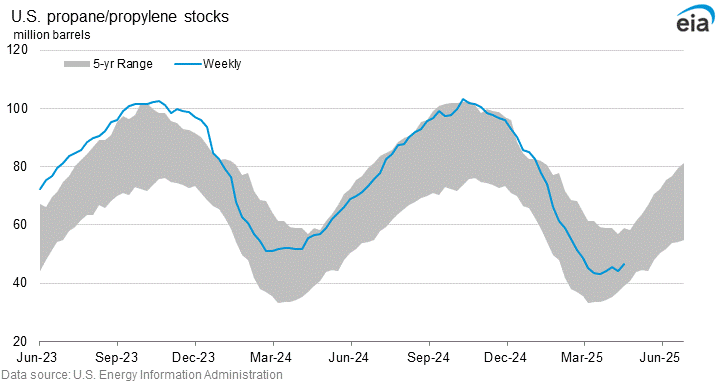 Commodity prices have stumbled and now all media outlets are talking about an energy shortage recession that drives prices lower. RARE PETRO doesn't see that happening for a number of reasons, and you can learn those reasons by continuing to engage with the rest of our content. Monday Madness, Basin Breakdown, and the Wacky World of Energy touch on these ideas frequently. It is only a matter of time until this knowledge becomes second nature to you. Thanks for joining us, and we will see you here next week. Cheers!
If you feel that any image, gif, or other related content infringes on your copyright, please email podcast@rarepetro.com to have that looked into or removed.
inventory report inventory report inventory report