Last week's report
Welcome back to the eighth edition of Thirsty Thursday, an inventory report from RARE PETRO! This one is coming out a little early, so snag a bloody mary, or perhaps a bottomless mimosa. We got a little bit of data to get through, so kick back and enjoy yourself.
If you've been following this report for a few weeks, you would know that the inventories have been draining like there is no tomorrow. The EIA predicted another draw at 4.5 million barrels but were way off the money as they reported a more than 2 million barrel surprise build.
The API predicted a draw of 4.2 million barrels but was also blindsided by another build of 800,000 barrels. Still, much less of a build than the EIA reported.
Sadly, this ends our wonderful multi-week streak. The drawdowns started modestly way back at the end of April and stretched all the way to now. Considering we saw around 40 million barrels disappear, a 2 million barrel build isn't too devastating… especially when you look at how the price reacted.
Early Monday oil prices (and markets in general) had a pretty terrible day. They plummeted from above $70 to almost $65. Everyone pretty much blamed it on resurging COVID concerns. Still, isn't it peculiar that the first build in inventories only pushed prices even higher? Almost makes you think that the price is right.
Still, a build in crude doesn't necessarily mean a build in the other refined products. Fortunately, we saw another decrease in the gasoline inventories, although you wouldn't know by looking at the graph as it was just a teeny tiny 100,000 barrels.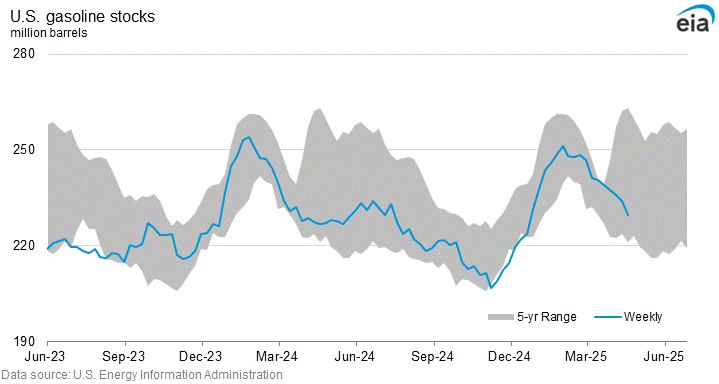 Even though gas inventories decreased the price seems to be leveling out. Prices are only 4 tenths of a cent higher than they were the week before.
Still, the trucker shortage continues. The US has enough gas for everybody, just not enough drivers to distribute. This leads to spot outages all over the country, and it looks like Las Vegas was most recently afflicted.
Distillates continue to do nothing interesting, but propane is still very near to falling out of its 5-year historical range. It again, skirts along the bottom teasing to break out of what we'd expect. Any week could shock the propane market, so be sure to follow us on LinkedIn so you never miss a report.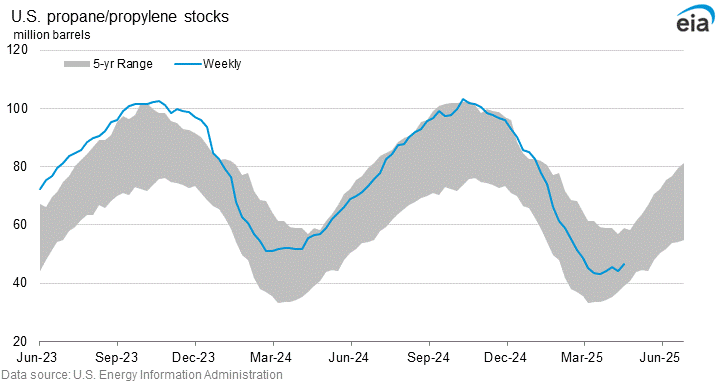 A relatively slow week for sure, but the bids were not huge. As far as 2021 goes, we've seen far more draws than builds, and that is something we at RARE PETRO will drink to. Thanks again for tuning in, and be sure to check back next week. Cheers!
If you feel that any image, gif, or other related content infringes on your copyright, please email podcast@rarepetro.com to have that looked into or removed.