Previous Reports
Welcome back to Thirsty Thursday, the most entertaining hydrocarbon inventory report on the internet! We apologize for releasing this a day late rather than getting it out to you on Thursday. In order to make up for it, this week's cocktail will be a little extra fun. The Bomb Shot! You can mix many different things this way whether it's red bull, beer, juice, or rum. You are mainly limited by your creativity. Grab a big glass and a little glass to prep yourself for some chugging!
Let your inner Picasso out and share your best recipes with a friend. After all, it is never a good idea to drink alone so you may as well send this report to someone who enjoys inventory data
The EIA expected a decent drawdown of 1 million barrels, though that would just be a dent in recent builds. According to their reported data, the actual drawdown was about 4.5 million barrels.
The API made a slightly larger prediction but reported slightly smaller results. Still, the drawdown was significant at more than 4 million barrels.
This drawdown comes at a time when it looked like builds would become the norm. It is relieving that builds can still be this big. While this is a drawdown, it doesn't do much to bring domestic inventories below their historic 5-year range… for now. New record lows could be in the cards as the root issue of the energy crisis has not been addressed, and eventually the US will stop releasing 1 million bpd from the SPR.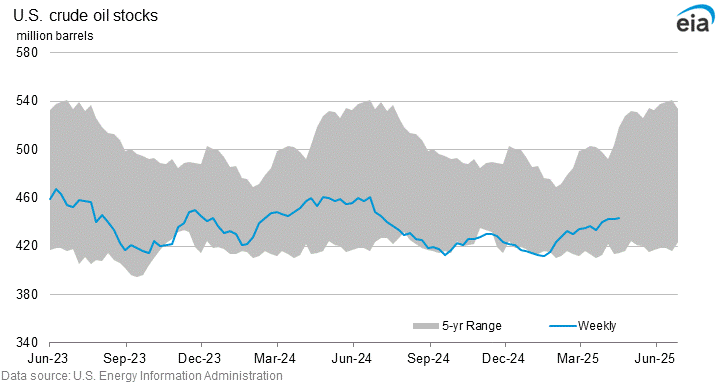 WTI prices still stick very close to the $95-$100 range, though Brent is pushing upwards of $110. Earlier this week the spread between WTI and Brent was at about $6, though today it is greater than $11. The great spread has placed a little positive pressure on WTI as the trendline gently slopes upward but volatility is still glaringly apparent with the steep valleys and hills.
Natural gas seems to have run out of steam. After weeks of significant and aggressive gains, it is starting to reverse its trend. This is likely a result of natural resistance fighting the short but aggressive climb. It spiked above $9.50 on Tuesday though since then it has been trending lower and lower. Either way, current events would suggest that winter could send prices back up above $10.
While some folks are recognizing lower gas prices, that may not be the case for long. Last week's gasoline build of 3.5 million barrels is almost entirely erased by this week's 3.3 million barrel draw. At this point it looks like we are doomed to stay outside of the historical range. The next few months have traditionally been a time period where drawdowns become more frequent, so this may leave us paying a ton at the pump this winter.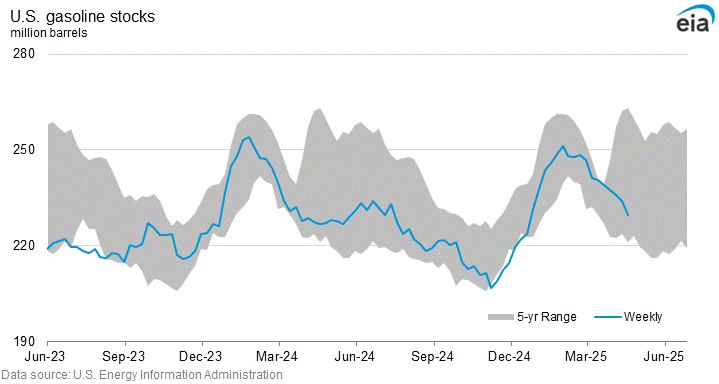 Until then, we recommend you enjoy the (comparatively) low gas prices as the national average slows around $4 per gallon of regular. Texas holds the record for the cheapest gallon with a state average of $3.761. Californians rejoice as their average gallon comes closer and closer to $5.500. Whichever way you cut it, fuel is cheaper all across the county and "price gouging at the pump" is no longer a popular narrative.
The gap between current distillate stocks and historic inventories has started to widen, though no short-term trend is clear. The long term suggests that we are in a period of decline starting from January of 2021. This is a time when one would expect a series of builds. Propane, however, is looking to come back into its predictable and tight historical range like the well-behaved commodity that it is.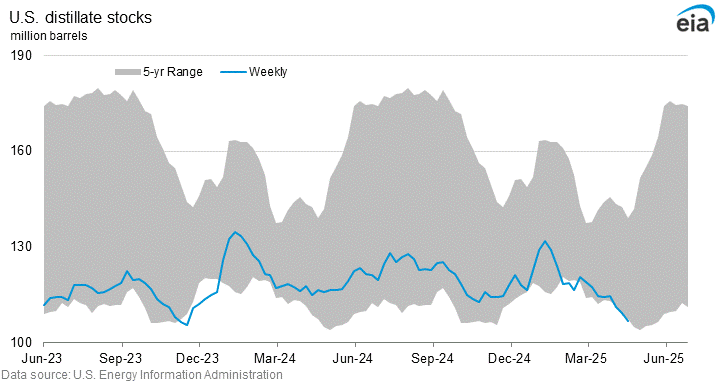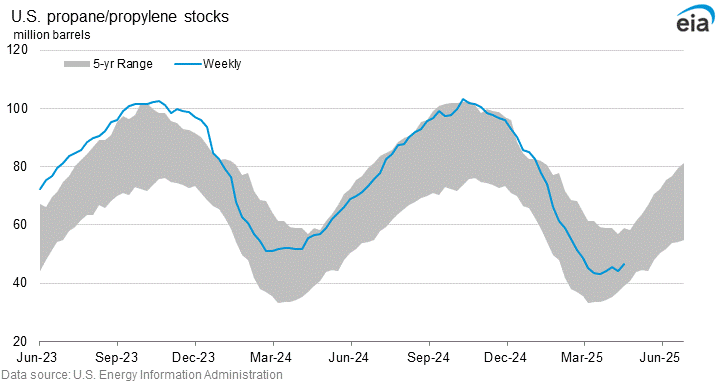 Extreme volatility is here to stay. Do your best to stay cool and enjoy the summer months as you might just be extra cool this winter. The world is scrambling to secure the supplies that it needs to weather that storm. Until then you should continue to educate yourself on all things energy. Follow our LinkedIn page to never miss a piece of content we release. We will see you back here next week. Cheers!
If you feel that any image, gif, or other related content infringes on your copyright, please email podcast@rarepetro.com to have that looked into or removed.
inventory report inventory report inventory report