Previous Reports
Welcome to this week's Thirsty Thursday: An Inventory Report. It is Tavis Kilian once again who is brining you all of the best inventory data we can find. We hope you had a lovely and safe fourth of July holiday and are finishing out the rest of your week strong! If not, hopefully this week's cocktail will put a little more pep in your step. The Vodka Red Bull! With a drink like this you will reach Friday easy. Either way, it is never a good idea to drink alone, and you definitely have a little Red Bull in the can so go ahead and send this report to someone else who likes reviewing inventory data as much as you do.
Crude Oil Stocks
Last week's inventory news was a big surprise as we nearly had a drawdown of 10 million barrels. This week they predicted a much smaller 1 million barrel drawdown, but managed to exceed expectations with a 1.5 million barrel drawdown.
The API predicted a larger drawdown at 1.8 million barrels but blew that out of the water with a reported 4.4 million barrel drawdown.
While the weekly graph makes it look like there is still plenty of work to be done to fight the first 2 months of builds, the EIA's total crude graphs shows that while there have been slight bumps from builds, it has ultimately been trending downwards since the start of this year. That is not to say that we are too low. We are smack dab in the middle of the 5 year historical range, but that is primarily due to a big 55 million barrel build from a few weeks around Christmas.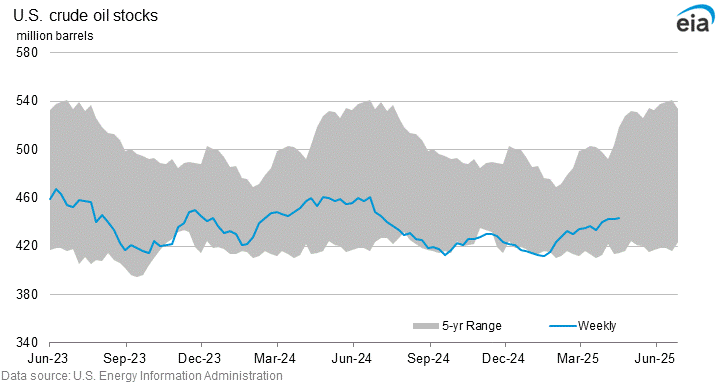 Oil and Natural Gas Prices
Commodity prices have really settled between $69-$72 as far as WTI is concerned, and only $4-$5 better when talking about Brent.
Natural gas appears to be in the middle of one of those cycles where it has just increased in price but is ready to drop back down. $2.80 is not the worst peak to hit for the time period, but it was awfully short lived. No need to hold your breath in this arena.
Fuels Market
Gasoline prices have stalled out, and (surprisingly) somehow slightly decreased through the holiday weekend. There was even a significant drawdown as we lost 2.5 million barrels of national supply between now and last report. It equates to a little more than a 1% change, but you wouldn't know that by looking at pump prices.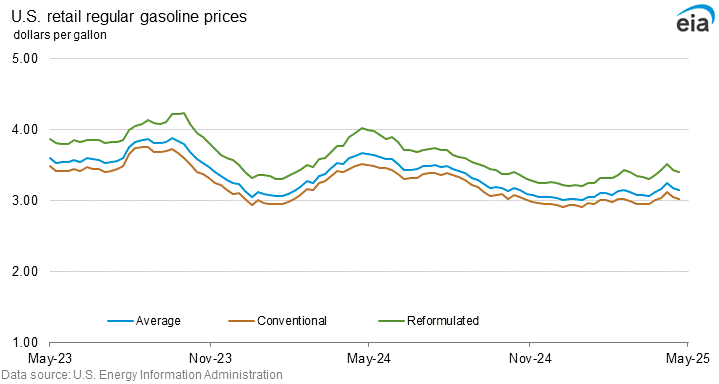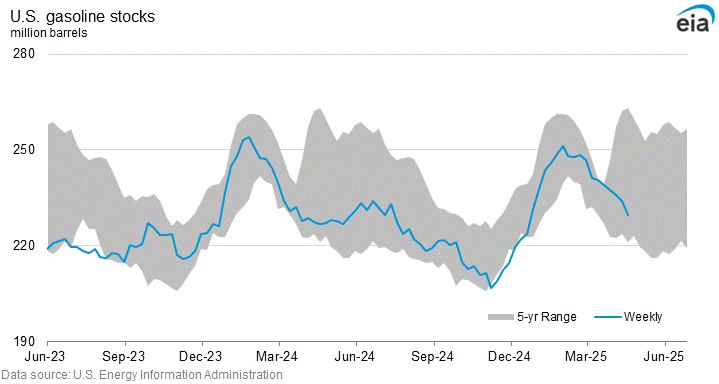 Gas prices are down 2 cents nationally on the week. Washington is still home to the most expensive gallon of gasoline at $4.975 which has been the case for about a month. As a matter of fact, Mississippi also continues to hold its title of cheapest gallon at $2.966
Diesel is 3 cents cheaper this week once more which means over the month it has cooled off 6.5 cents despite trending back downward an rubbing up against the record low for a 5 year range. On the other side of the spectrum is propane which is absolutely chart topping at the moment. I'm talking record after record each week! It seems like we never fully came down in supply from the most recent year long cycle giving it a bit of a boost to work with through now. Could be potentially cheap heating oil if you have the ability to pursue that.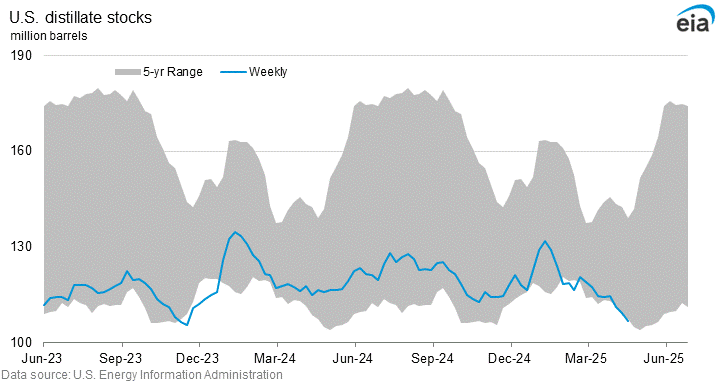 Crude Oil Imports/Exports
Net crude oil imports were down just over 100K bbl/d from the last reporting period, but remain about 1 MMbbl/d higher than most of April. This seems to be dominated largely by a drop in exports–imports seem fairly stable.
Crude oil imports over the short term remain cyclical but over the past 3 years or so show a generally flat trendline. Exports, as of the past several months, have jumped significantly which brings the country's net imports nearer and nearer to zero; at which point we will officially be an oil net exporting country for the first time.
US Weekly Import/Export Data (Jun 9-15)
| Product | Imports (Mbbl/d) | Exports (Mbbl/d) | Net (Mbbl/d) |
| --- | --- | --- | --- |
| Crude Oil | 6,462 | 3,802 | 2,660 |
| Other Petroleum Products | 2,079 | 6,100 | -4,020 |
| Total Oil + Products | 8,541 | 9,902 | -1,361 |
China overtook Mexico this month in the country receiving the most oil from the US with both countries by far accounting for the top destinations of US crude. Meanwhile, the Netherlands makes a huge jump up to 3rd on the list.
US Monthly Import/Export Origin and Destination Data (Month of March 2023)
| Export Destination | Total (Mbbl) | Import Origin | Total (Mbbl) |
| --- | --- | --- | --- |
| China | 45,826 | Canada | 137,157 |
| Mexico | 43,791 | Mexico | 28.914 |
| Netherlands | 28,667 | Saudi Arabia | 14,986 |
| Canada | 24,352 | Iraq | 11,394 |
| Japan | 19,614 | Colombia | 6,791 |
The latest month that we have import and export data on where and from those barrels are coming from is now March and while the lag time is significant I still find it interesting as I hope you do!
That's it for this week. Get out and enjoy that beautiful spring weather!
If you feel that any image, gif, or other related content infringes on your copyright, please email podcast@rarepetro.com to have that looked into or removed.
inventory report inventory report inventory report