Previous Reports
Welcome back to Thirsty Thursday, the most entertaining hydrocarbon inventory report on the internet! We just came off of a lovely 3 day weekend and have plenty of great data to dig through. Today's drink is going to be a summer classic: The Mojito.
Make sure to muddle up plenty of mint and be heavy handed when spritzing the lime. If you have a friend who is also into inventory data, you would be failing them if you didn't forward this their way. Otherwise, get yourself a glass, and get comfy.
I hope your poured your drink strong because the EIA brings bad news this week. While they expected a 1 million barrel drawdown, they actually reported a more than 8 million barrel build.
The API also expected a drawdown of about a million barrels but reported a large build. Half the size of the EIAs, but a build nonetheless.
This build is comparable to the large ones we saw through April and May. The most significant thing to note is the historically low inventories have now broken back into the 5-year range. We don't anticipate this to be a regular occurrence as the last year and a half has been mostly inventory decreases with minor builds. Even the 40 million barrel build of 2021 was wiped out in a matter of months. We are fast approaching a time of year that has historically trended downward, so this will be one to keep your eye on.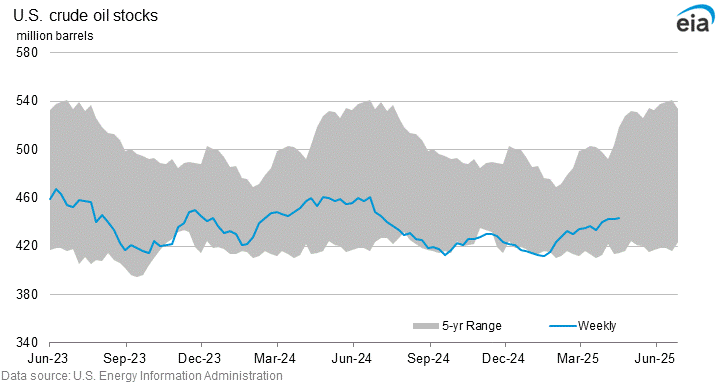 Surprisingly, oil prices are up despite the news of massive builds. Oil fell below $100 very briefly (both Brent and WTI), but quickly rebounded through the evening of July 6. Perhaps not at the $110-$120 we have become accustomed to, but still a healthy price that likely has room to grow.
Natural gas prices have been falling heavily for a couple weeks now. What used to be $9-$10 cratered much much lower. The new floor appears to be about $5.50 as we are already back up above $6. A $5.50 floor is rather alarming because the nearest spike we had before the pandemic came at the end of 2018 and barely even reached $5. Just because the price is falling doesn't mean oil is going back to $40, despite what some news agencies want you to think.
Last weeks build in gasoline has been immediately sucked away dashing hopes of strong and continued inventory growth. The 2.5 million barrel decrease brings us below 220 million barrels total here in the states which is about 24 days of supply.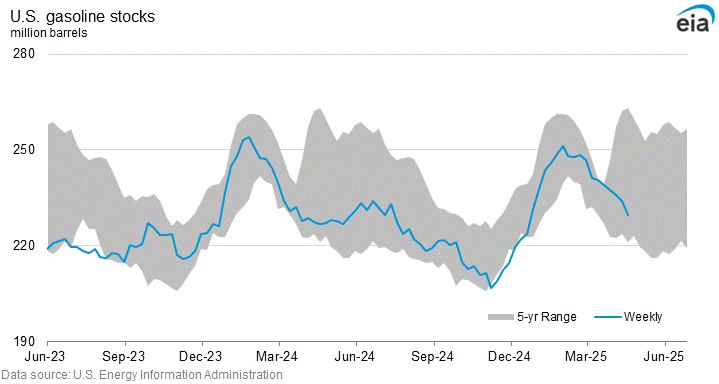 Gas prices have fallen about 21 cents per gallon since the start of June. Some folks in the administration believe the Biden oil reserve release was "single handedly responsible" for halting increase in gas price. Unfortunately there are many more factors, but we won't argue with the precise use of "halting increase" as opposed to "lowering." The temporary reprieve will likely not be enjoyed for much longer. Some states even moved forward with implementing their own gas tax hikes to maintain scheduled rate adjustments. This will certainly not lower prices for the folks affected.
Distillate inventories have faltered. After several weeks of builds it looks as if getting back into historically normal territory will be much more challenging than we thought. What makes this decrease doubly impactful is the time at which it comes. This has historically been a time period where we see lots of inventory builds, but decreased refining capacity and spot shortages worldwide are making sure inventories don't get much better. Even propane dipping below its historical range which holds terrible implications for winter.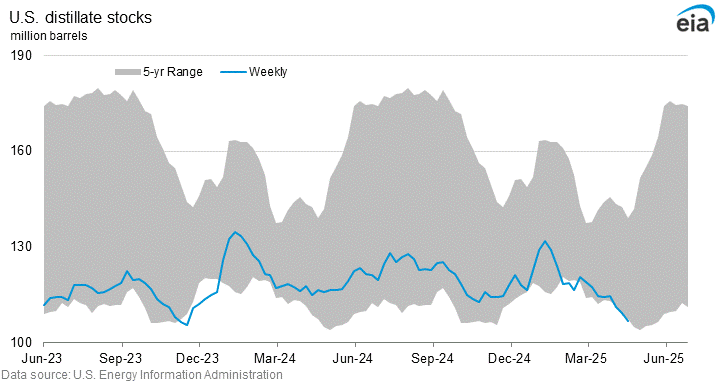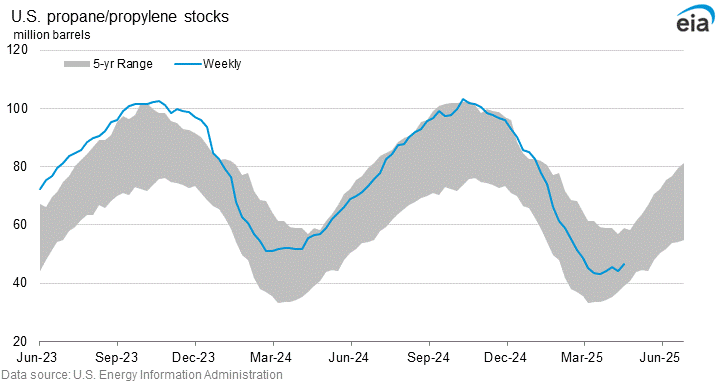 Markets may have thrown us a curveball this week, but oil prices cannot be suppressed. The root cause of undersupply has yet to be addressed in the states. The longer the current administration pretends this isn't a problem, the harder it will hit this winter. Keep yourselves informed, and stay researching. We will see you back here this time next week. Cheers!
If you feel that any image, gif, or other related content infringes on your copyright, please email podcast@rarepetro.com to have that looked into or removed.
inventory report inventory report inventory report