Previous Reports
Welcome to this week's Thirsty Thursday: An Inventory Report. This is Tavis once again and I do apologize missing the last two issues. I think I got so accustomed to the luxury of having help generating content that it was easy to let it fall to the wayside as I attacked other tasks. So this week we keep it simple and go back to our roots with a working person's cocktail: The Blue Collar Cocktail. Make no mistake, this painstakingly prepared cocktail likely got its name not from simplicity, but rather the work that goes into it. Fortunately the recipe links to a video of a kind gentleman who will walk you through preparation. Since it requires so much attention, you might as well make two of them. Make no mistake: it is always a bad idea to drink alone, so deliver the drink along with this report to a friend who is equally as interested in inventory data. Now without further ado, we will dive into the details!
Crude Oil Stocks
The EIA expected a relatively typical drawdown at a little more than 1.3 million barrels but was blown away with an absolutely biblical outcome. 17 million barrels disappeared from reserves for the largest weekly drawdown since we have been recording this data back in 1982 by 2.5 million barrels. The runner up was back from September of 2019 at 15.5 million. According to Reuters, the draw was a result of increased refinery runs and strong crude exports. Let's hope some of that refining capacity goes back into gasoline so that we aren't caught in a bad spot.
The API predicted a 900,000 barrel drawdown, but also recorded a strong result at 15.4 million barrels. That is quite nice as an indicator because often the API doesn't have results that agree with the EIA, so being so close in magnitude likely confirms the assessment. Its either that, or the fact that the EIA releases their data first and the API didn't want to look silly.
As you might expect, our weekly inventory change shows a massive drawdown bar that extends the negative scale and dwarfs all builds back to April combined. This of course also means the cumulative total took a sharp nosedive down bringing us under the center of the historical 5 year range. A few more weeks of 7-10 million barrel drawdowns will pull us to record lows by early October.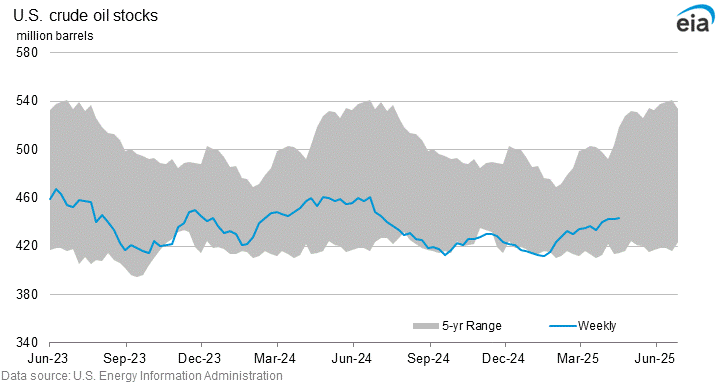 Oil and Natural Gas Prices
Commodity prices are doing well as oil benchmarks continue to test 3 month highs. This time last week WTI was at about $80 and closed out Friday just slightly higher. Prices were doing even better once markets returned before they took an absolute nosedive on Wednesday. This is likely a result of testing some pretty solid structure lines. Surprisingly, this morning we have already seen a fantastic rebound as it runs right back up to that mark. If we can get back above $82, think will be looking good. If it drops back down again, I expect we would see another test pretty soon. At this point Brent is experiencing the exact same movement, but it is likely to early to make any assessments on the spread.
Natural gas benefits slightly from the volatility, but it's still far below prices it was last week. This may be the year of the barrel, but I don't think it is time for natural gas to be in the spotlight. I wish I had more to say in this category, but things aren't what they used to be. If we are patient enough, we may see the price trend upward just a little more but it is mostly flat.
Fuels Market
Gasoline inventories saw a healthy boost as we find about 6 million barrels more of supply. This checks out with that massive draw if refineries are back to manufacturing massive quantities of petrochemicals. Gasoline inventories remain below the historical 5 year range despite this build.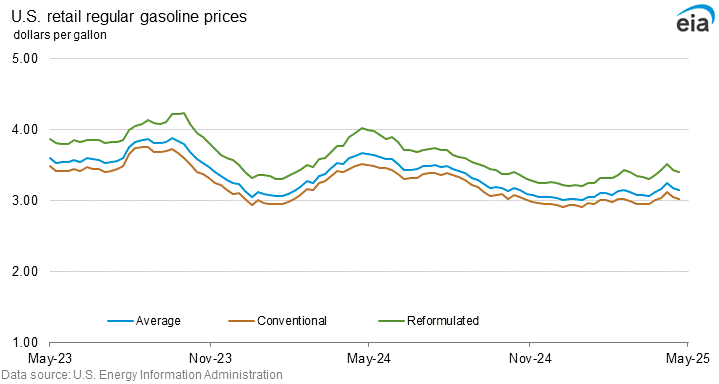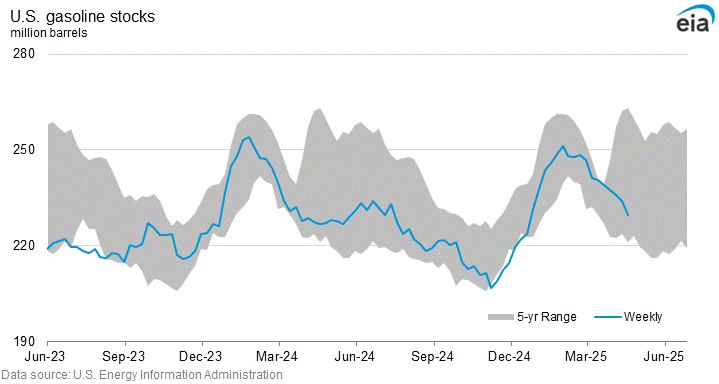 After a 15 cent increase week over week, you'd imagine this healthy injection to supply might bring down the prices. If anything, it has slowed down the increase of price as we are now only 11 cents more expensive than we were last week. The most expensive gasoline remains in California, and the cheapest in Mississippi ranging from $5.037 and 3.329 respectively. Diesel prices are up almost 20 cents from a week ago.
Distillates are slightly trending downward at this point as they remain awfully close to the bottom of the historical range. Propane is the exact opposite as it sits higher than the historic 5 year average.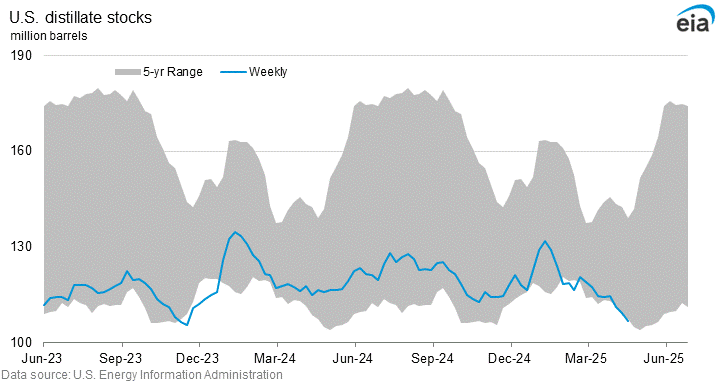 Crude Oil Imports/Exports
Net crude oil imports were down just over 100K bbl/d from the last reporting period, but remain about 1 MMbbl/d higher than most of April. This seems to be dominated largely by a drop in exports–imports seem fairly stable.
Crude oil imports over the short term remain cyclical but over the past 3 years or so show a generally flat trendline. Exports, as of the past several months, have jumped significantly which brings the country's net imports nearer and nearer to zero; at which point we will officially be an oil net exporting country for the first time.
US Weekly Import/Export Data (Jun 9-15)
| Product | Imports (Mbbl/d) | Exports (Mbbl/d) | Net (Mbbl/d) |
| --- | --- | --- | --- |
| Crude Oil | 6,462 | 3,802 | 2,660 |
| Other Petroleum Products | 2,079 | 6,100 | -4,020 |
| Total Oil + Products | 8,541 | 9,902 | -1,361 |
China overtook Mexico this month in the country receiving the most oil from the US with both countries by far accounting for the top destinations of US crude. Meanwhile, the Netherlands makes a huge jump up to 3rd on the list.
US Monthly Import/Export Origin and Destination Data (Month of March 2023)
| Export Destination | Total (Mbbl) | Import Origin | Total (Mbbl) |
| --- | --- | --- | --- |
| China | 45,826 | Canada | 137,157 |
| Mexico | 43,791 | Mexico | 28.914 |
| Netherlands | 28,667 | Saudi Arabia | 14,986 |
| Canada | 24,352 | Iraq | 11,394 |
| Japan | 19,614 | Colombia | 6,791 |
The latest month that we have import and export data on where and from those barrels are coming from is now March and while the lag time is significant I still find it interesting as I hope you do!
That's it for this week. Get out and enjoy that beautiful spring weather!
If you feel that any image, gif, or other related content infringes on your copyright, please email podcast@rarepetro.com to have that looked into or removed.
inventory report inventory report inventory report